Babies are one of the most adorable creatures on earth. And the same could be said about cats and dogs as well. I think most of us agree on that. But what if we combine all three of them together? Cuteness overload, that's what! In this clip, we get to see a little baby snuggling with his animal friends, a cat and a Labrador pup.
Well this little baby, Elsarose, is only six weeks old and she looks like an angel laying there with the pets. And it's important to recognize that a six-week-old doesn't have much control of their bodily functions. Most of us probably know babies take their first steps between 9 and 15 months of age and begin talking at around 9 to 18 months. But you may have forgotten that most children don't start to become aware of their bodily functions until around 12 to 18 months of age, so we can barely blame little Elsarose for what comes next.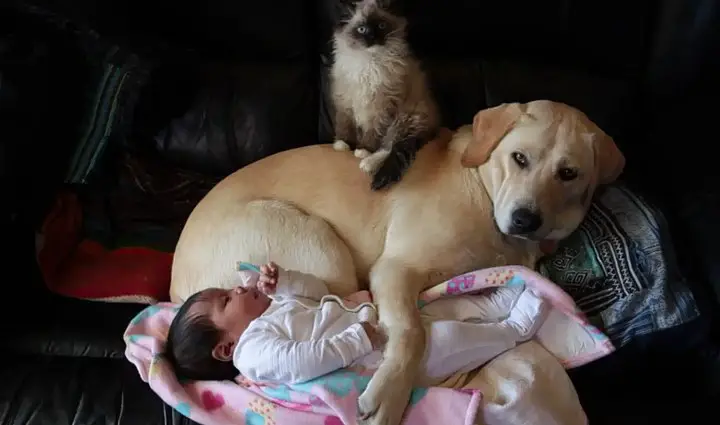 Here we have Pebbles the Ragdoll kitten, Nelda the 8-month-old Labrador, and Elsarose all cuddling together on the sofa. The pooch looks really sleepy, while his feline friend looks confused about the whole situation. Just then the baby lets out a fart and the cat, who appears to be the smartest, moves her place immediately.
Maybe she didn't want to stay around for the after-effects! Watch the full video below and please leave us a Facebook comment to let us know what you thought! Watch the priceless moment below and please leave us a Facebook comment to let us know what you thought!
Don't forget to hit the SHARE BUTTON to share this video on Facebook with your friends and family.