Christmas is the time to spread cheer and joy to everyone around you. It's about giving and sharing—even a small gesture can mean a lot. Here's a little boy whose parents do a pretty cool thing and it makes a world of difference to him.
For children, Christmas might be a lot about presents, but for parents, its about making their children smile. The little boy in the following video is named Archie and he sure is lucky to have parents who went to that kind of trouble for his Christmas morning!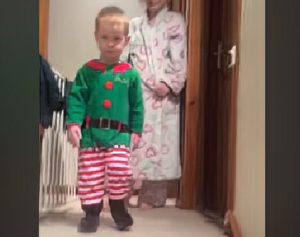 He was asked by his parents to have a look around the house. Archie is absolutely over the moon to see Santa's "footprints" around the house! He can't believe his luck and he squeals in absolute joy! He follows the footprints and is overcome with happiness to see a pile of presents just for him! What a sweet child!
Did this video melt your heart? Share with all your friends and family!
SHARE this amazing video with everyone you know!