Soldiers do a lot for their country. They risk their own lives to save others. These extraordinary men and women should get all the respect in our hearts. People in this line of work often tend to go through lots of physical and mental problems. Being away from their family and friends must be unbelievably stressful as well. But that doesn't mean these amazing souls don't know how to have fun and amuse themselves!
This video shows an amazing moment which will leave you smiling for sure! The group featured below is called 82nd Airborne Chorus. They are an all-American troop from Fort Bragg, NC. In this clip, they are performing "Here we go" with their incredible vocals. 82nd Airborne Chorus was originally formed in 1964, but it still strongly continues even today.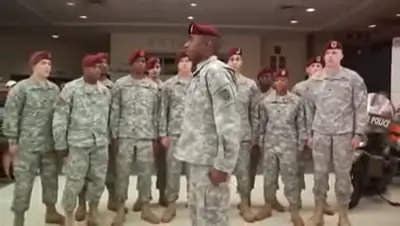 Watch them below! What did you think about this? Let us know in the comments!
Please SHARE this amazing clip with your families and friends!