Toddlers are one of the cutest people ever. Their tiny bodies and adorable ways can't stop you from obsessing over them.
In this video, we will see how adorable kids danced their hearts out on the stage at the  Kids Artistic Revue (KAR) Dance Competitions. This video made many people's hearts flutter. You really can't help but fall in love with the kid's skills because how come not?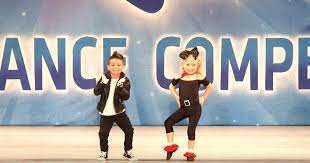 Danny and Sandy are both 4 years old. The little kids perform a dance inspired by the famous movie "Grease". They really nailed their performance in every way possible. Danny even sported a hair like that of John Travolta and their outfits were on point too.
This video is the best one ever. Watch the full video below!
Here's another beautiful dance from another talented 4-years old:
Please SHARE with your friends and family!