I've posted about this father and son before but it's just such a heartwarming story, plus the dad is such a good singer, that I wanted to post another song.
Ted McDermott, 80, used to be a singer. He had a huge passion for music and he even traveled to the UK in his younger days to perform at clubs and venues. But as he aged, his memory started to fade due to Alzheimer's. After a while, he didn't really remember his son Mac. But Mac discovered his dad still remembered the words to the old songs he used to love and they do a bit of "carpool karaoke" to spend time together.
Mac and Ted actually recorded some of these sessions and they went viral. Ted was offered a recording contract and donates a portion of his earnings to Alzheimer's-related charities.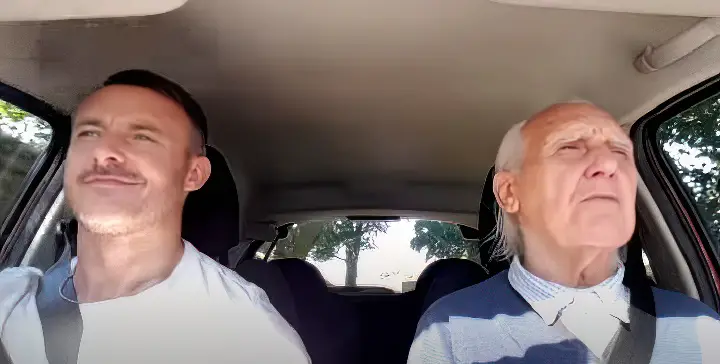 Alzheimer's disease is a progressive, degenerative neurological disorder that affects an estimated 5.5 million Americans. It is the most common form of dementia, and is characterized by a gradual and irreversible decline in cognitive ability, including memory, problem–solving, language, and orientation. Symptoms typically start to appear in people over the age of 65, but it is possible for younger people to develop the disease.
Alzheimer's is a chronic and terminal illness that gradually destroys the mental and physical abilities of those affected. There is currently no cure for Alzheimer's, however, researchers are actively searching for treatments and preventative measures. So thanks to Ted and Mac for their help in these efforts. 
Here Ted does his version of the Bobby Darin classic, "Mac the Knife." This is personally one of my favorite songs and Ted really does it justice. Watch the full video below and please leave us a Facebook comment to let us know what you thought!
Don't forget to hit the SHARE BUTTON to share this video on Facebook with your friends and family.