Country swing, no doubt, is the renowned dance form a combination of myriads of styles. People enjoy watching and performing at Swing festival. The couple in the video are gaining extra points for not breaking characters despite a speedo distraction.
Usually, the dance form doesn't associate with sexy line dancing movements. But the couples in the video prove us wrong gracefully. In boots, tight jeans, the duo has no problem showcasing their passionate routine with different spins and dips. The 2012 hit song "Hard to love" by Lee Brice is playing in the background.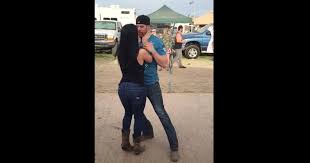 The melody and chemistry between the two undeniably bring magic to the floor. Soon enough, the love birds are joined by a man in speedo of the American flag. Uamusement with the couple go on executing few lifts and never once do they break the character.
The loud music invites a few other couples; however, no one seems to top the steamy dancers. Joey Timmons, the male dancer, posted the video on his Facebook, which went viral with over 15M views. Sadly, the recent comment suggests Stephanie and Joey broke up. In spite of their personal life, the two look deeply in love during the entire dance. Don't you agree? Please press play and do share your thoughts on the feed.
If the video made you smile, you should share it with your loved ones.