I love street musicians. You're just going about your day and suddenly, when you come upon them, it adds a little joy to your life. Nothing gigantic, just enough to make you smile and brighten up your day.
In this video, 8-year-old Ollie is playing an electric guitar so well that a crowd gathers just to listen to his Western theme songs. It's so good, it's as if you're watching the sun go down and a cowboy ride off into the sunset.
Ollie says he's been playing for a couple of years–his grandfather started teaching him at age six. He's got his own YouTube channel now and dreams of being a guitarist in a band.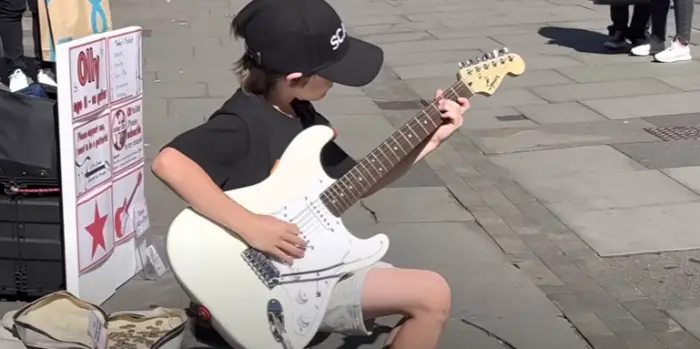 This video is his biggest hit so far, with over six million views. He uses the money he earns to buy more guitars and guitar accessories–a good lesson for one so young to work on supporting his own dreams.
He says his favorite bands are Hank Marvin and The Shadows, ACDC, Rolling Stones and The Beatles. That's some big company but he's off to a great start. Watch the full video below and please leave us a Facebook comment to let us know what you thought!
Don't forget to hit the SHARE BUTTON to share this video on Facebook with your friends and family.