Here's a re-post of an earlier article–I thought it was appropriate as we approach April 2023, the date that was "10 years in the future" for Taylor Smith when she wrote her letter.
It is very tough to lose someone important in our lives. However, it is quite consoling to find something important years later after the person has passed.
Taylor Smith was a cheerful and very optimistic young girl. Unfortunately, she passed away due to pneumonia at a very young age. This girl had seen so much for her future self and did not get to make it to the future that she sought. Taylor's mom and dad were not able to go inside her room after she tragically passed away.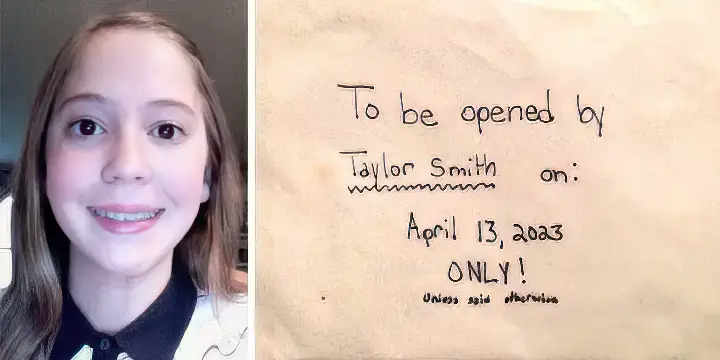 Whatsoever, when they finally did, they found a heart-wrenching letter that Taylor had written for her 22-year-old self. The letter contained all the things she had been inspired to have by that time in the future. She mentioned a college degree, faith in God, and a lot more optimistic and happy things. Her mom shared the letter on social media and it got many shares as well.
This is one of the most heartwarming yet sad things you will ever find on the internet. Watch the full video below and please leave us a Facebook comment to let us know what you thought!
Don't forget to hit the SHARE BUTTON to share this video on Facebook with your friends and family.