Samoyeds are one of the most beautiful dog breeds. This video will make you fall in love.
Dogs are one of the most loyal and amazing creatures ever. A person who befriends a dog will always remain happy. A dog can entirely change your life in the best way possible. There are barely any people who dislike dogs.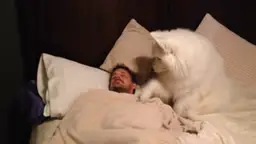 In this viral video, we see a white Samoyed wake her dad up. It is quite obvious that the owner is very loving towards this dog. The dog is also very familiar with her responsibilities and does what a good pet would.
This video will melt your heart. Watch the full video below!
Please SHARE with your friends and family!