This is one of the most adorable videos you will ever find on the internet. This horse is a sweetheart.
When you think of horses, you assume they are wild and magnificent creatures. All they seem to like is some animal who is too wild and masculine to seem adorable. However, this is not the case. No matter how enormous they are or what they are famous for, anyone can be cute, including animals. And this horse takes the cake for being the cutest horse ever.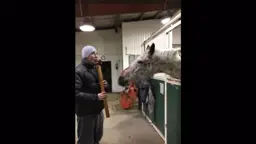 This is where this horse became so happy when he heard his owner play the flute. The Native American tune really resonated with the horse and it makes you feel happy in every way possible. I really have never seen someone as good and adorable as this good boy. The horse will surely steal your heart.
Too cute! Watch the full video below!
Please SHARE with your friends and family!