Amanda Smith from North Carolina just received what can be the most memorable gift of her life from her husband, and it was in the most casual way. He simply showed a picture on his phone! Out of all the gifts he could give her, it was a baby cow—and Smith couldn't be happier about it!
"I've wanted one since I was very little," Smith explained. "He found one in Maryland at a dairy farm."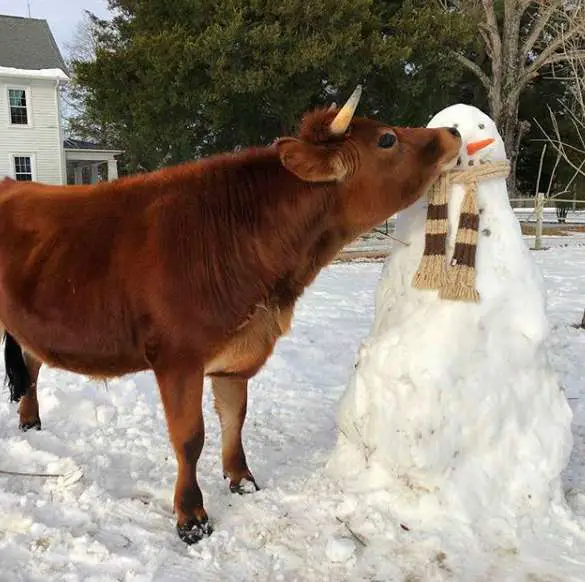 The calf would also have a very unfortunate fate like many other male cows. However, the Smiths wanted to shower the baby cow, with all the love they could. The cow, whom they named Finn, would live a happy life as a loved pet, just like his rescue dog brothers.
Mrs Smith saw the picture of the cow a couple of weeks before they could go and receive him. But they did go to receive him. That was when the gift's reality hit her.
"[Finn's owner] met us halfway at a parking lot and [Finn] was so freaked out," she remembered. "We opened the door and I was like, 'Oh my God.'"
But, within no time, Finn was convinced he was safe, given that the Smiths bottle- fed him.
"We bottle-fed him for a long time!" Smith remembered.
Now, 2 years later, Fin is a handsome young steer with so many chances to discover what he loves. He loves water. After absolutely enjoying a local river his family took him to, Finn went to the beach with them as well!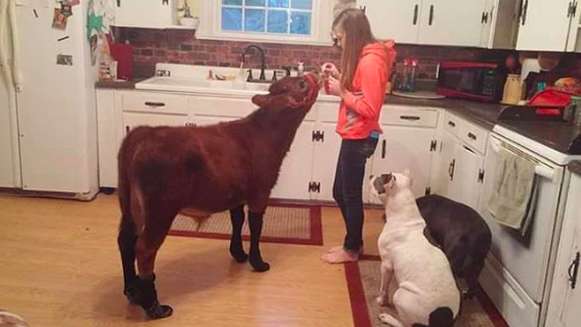 Finn also enjoys playing in the snow and helping his family with snowmen, which is mostly its destruction.
Finn even helped get support for a local toy drive last year. "I just want him to be a blessing to other people," Smith said. "I want him to just brighten people's day."
Recently, Finn's life got even better when his parents adopted another cow named Daisy. He likes her a lot, but he is also very attached to his humans. "I think she's more attached to him than he is to her!" Smith said.
Finn is now two and loves spending his time inside the house with his three rescue dog brothers and the kids. Of course, he is always welcome inside!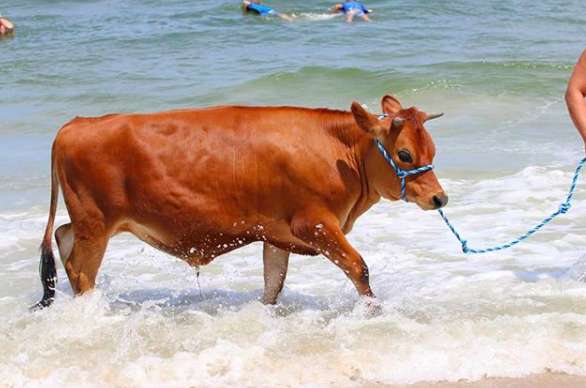 "We have three kids, and they love him," Smith said. "They say Finn has better birthdays than they do. He gets measured on the wall like they do." Finn knows exactly how to give back all the love he gets. He visits schools and county fairs for giving communities a chance to relate to cows in a more personal way.
"He's a lot smarter than people think," Smith said. "He was at the county fair and the kids just loved him, and a lot of the time it's their only time to see a cow in person." Although Smith wasn't sure about their plans for the holidays, she knew her big, happy family will be spending a lot of together- time with Finn, their most memorable Christmas gift.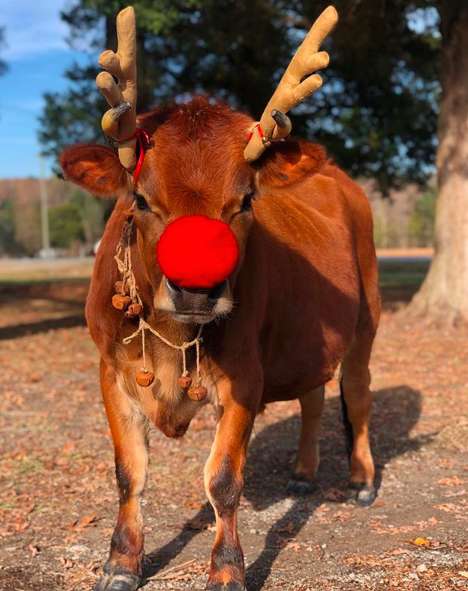 "When Finn comes inside, [our dogs] kind of go, 'Great, he's in the house again!'" Smith said. "Last year, he tried eating the Christmas tree."
SHARE this amusing story with everyone you know!