There are a lot of wedding videos on the internet–father-daughter and mother-son dances, funny flower girls, ring-bearers without the rings–but I've never seen one quite like this and I just had to post it.
This couple chose what they thought would be an idyllic setting for their wedding: beside a gorgeous lake in Montana's Glacier National Park. Unfortunately, during the actual ceremony, they heard wildlife sounds coming from nearby.
The videographer was Stanton Giles, who is also a National Geographic filmmaker. He told them calmly that the sounds were a grizzly bear chased down a baby moose. And he quipped, "That is why we didn't go to the north shore, ladies and gentlemen."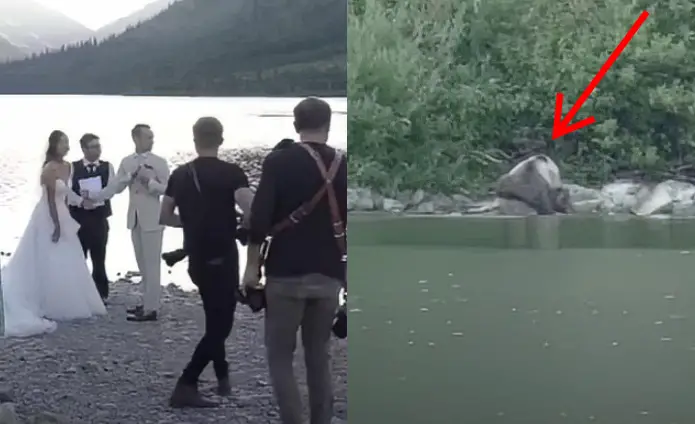 Stanton said he was, "torn between being a National Geographic filmmaker and a wedding videographer, I held my camera on the groom until he finished his vows, to which I promptly said, 'There's a grizzly bear killing a moose,' ". Talk about a wedding surprise to the couple and their friends!
Watch the full video below and please leave us a Facebook comment to let us know what you thought!
Please SHARE with your friends and family!