There is nothing like splashing in cold water on a hot day! I remember when I was a kid, all I wanted to do was be by the pool. And if a friend had an inflatable kiddie pool, it would be our home base. And that is what this horse seems to be doing!
Duke is a lively brown stallion. Moreover, the kids love him. No wonder that they don't mind sharing the pool with him. Furthermore, he doesn't just share it with the kids; he takes over the blow-up pool!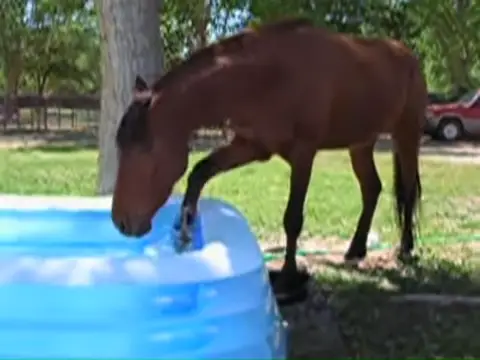 At first, the stallion is drinking from the yard pool. But then he uses his forehooves to splash a little water. And it doesn't just end there! The adorable horse goes into the pool and starts splashing. At that moment, he might have realized how nice it feels in the water. So, he proceeds to lie down in the pool! Watch the hilarious video below:
And please SHARE this with your friends and family!