Frank Sinatra, of Hoboken, New Jersey, was an iconic American singer, actor, and cultural phenomenon. Often referred to as "The Chairman of the Board" or simply "Ol' Blue Eyes," Sinatra's impact on the music industry and popular culture is unparalleled. With his distinctive voice, impeccable phrasing, and charismatic stage presence, Sinatra became one of the most influential and successful entertainers of the 20th century.
He rose to prominence in the 1940s as a solo artist, leaving a lasting impact on the world of popular music with his signature style of swinging jazz and heartfelt ballads. Sinatra's career spanned several decades, during which he recorded numerous chart-topping hits, starred in acclaimed films, and received numerous awards, including multiple Grammy Awards and an Academy Award for his acting.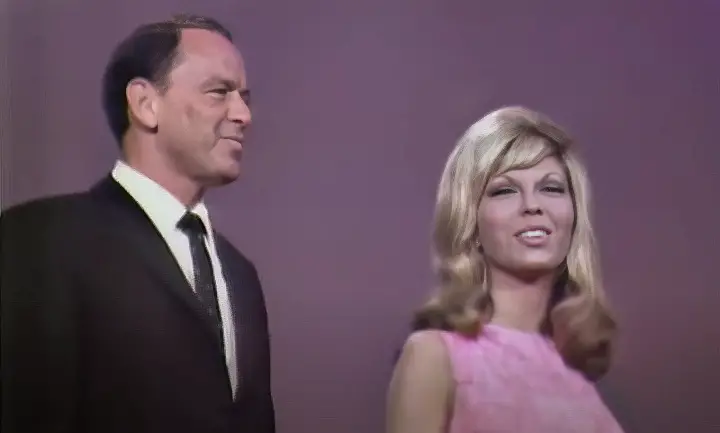 Beyond his musical and acting talents, Sinatra was known for his charm, swagger, and magnetic personality, becoming an emblematic figure of the Rat Pack era and a symbol of timeless cool. His contributions to the American songbook and his influence on subsequent generations of artists have solidified his status as an icon of the music industry.
His daughter Nancy's "These Boots Are Made For Walkin" is one of the biggest hits of the 1960s and it was her biggest hit too. So when he joined her onstage in 1966 for this amazing medley of songs, I nearly lost it! Wait till you see this amazing performance by this daddy and daughter duo! They give a beautiful albeit a funny performance of a mashup of "Downtown" mixed in with "These Boots are Made for Walkin'". Watch the video below and please leave us a Facebook comment to let us know what you thought! Did you enjoy it? Let us know if you did through your comments!
Don't forget to hit the SHARE BUTTON to share this awesome video on Facebook with your friends and family.