When planning a wedding, couples need to think of everything, from catering to venue and everything in between. The flower girl and ring bearer are also important decisions to make because they want people to think they're adorable without distracting from the wedding. Well in this case, the distraction part didn't quite come out like they were expecting.
All those two have to do is walk down the aisle with a flower basket and box of rings and stand at the bride and groom's side, or maybe just go sit down once they make it to the front. But some kids are unable to handle this amount of information. Some are not accustomed to this type of social situation, so they withdraw. Others rejoice in rebellion in front of the crowd. I'm not sure which it is, but both could describe what happens in this video.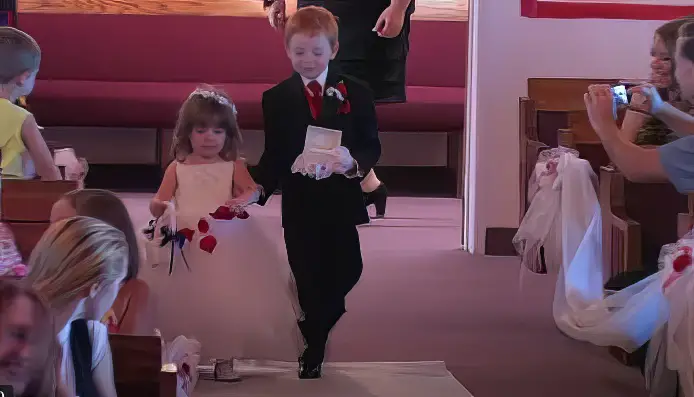 Initially, the toddler has a lovely start. But halfway through the lane, she keeps getting confused with the so many people just gawking at her. While walking up to the stage, she needs a little help, so the Marines come to the rescue!
Unfortunately, things don't go well from there–she sits on the step and looks in awe at the entire spectacle. Please enjoy the video below and leave us a Facebook comment on what you think of this cute flower girl.
Don't forget to hit the SHARE BUTTON to share this video on Facebook with your friends and family.