Gordon Lightfoot's "The Wreck of the Edmund Fitzgerald" was a giant hit in the 1970s, long before there was MTV or music videos. Since the song was written about an event that actually occurred, one fan who loved the song decided put together his own video featuring historically accurate photos and film to give you an idea of the event behind the song.
The SS Edmund Fitzgerald was an American freighter that traveled the Great Lakes carrying massive amounts of cargo–six times setting the seasonal hauling record. According to Wikipedia, "Captain Peter Pulcer was known for piping music day or night over the ship's intercom while passing through the St. Clair and Detroit rivers (between lakes Huron and Erie), and entertaining spectators at the Soo Locks (between Lakes Superior and Huron) with a running commentary about the ship."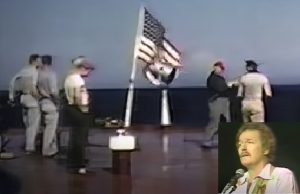 During a particularly bad storm on Lake Superior, the ship sunk on November 10, 1975, with all 29 crew on board. The storm reportedly had waves up to 35 feet high and the vessel couldn't cope.
After reading an article about the ship, recording star Gordon Lightfoot recorded "The Wreck of the Edmund Fitzgerald" in 1976. It went as high as #2 on Billboard's Hot 100. This video from Peter Dingle sets film and photos to that song in order to tell the Edmund Fitzgerald's story.
Watch the full video below and tell us in the comments if you remember Gordon Lightfoot's hit song and like this video.
Please SHARE with your friends and family!