UPS driver Oscar Luciano is having the busiest time of the year because of the continuous gift- shopping for the holidays. Recently, however, Luciano got a present for himself while dropping off a package at a house in Illinois. A fluffy-tailed admirer encountered him and the sweet encountered was caught on camera!
According to Luciano, he started the delivery like usual where he frequently dropped packages for his costumers. He was sure about what to expect when he rang the bell when he arrived at this particular house, but he couldn't be more wrong.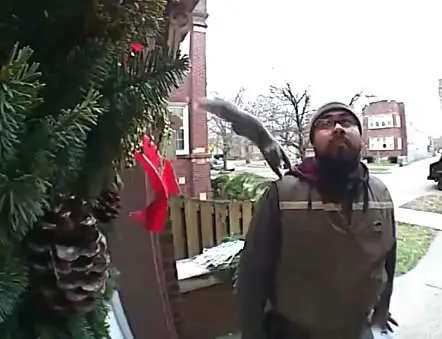 "I'm always jamming to music, so I'm bobbing my head," Luciano said. "[Then] this squirrel just jumped out of nowhere."
Out of nowhere, the squirrel jumped on his back. He was obviously surprised, but he knew, thankfully how to keep his calm. Watch the amazing moment in the video below:
Nobody knows where the squirrel came  from or why she decided to meet Luciano, but Luciano was very delighted about it.
"I think squirrels are cool. I love animals, so I guess that's why I didn't get scared," he said. "That was actually pretty cool. I felt like Snow White and her furry friends." We are sure this isn't something Luciano will be forgetting anytime soon.
SHARE this post with everyone you know!