I really love street performances, especially when everybody is going about their daily routine but stop to take in a street performer's art. That's probably why there are public pianos in the train station in London: to add a little joy to people's day.
Dr K, whose real name is Brendan Kavanagh, is a regular at the London train station public pianos. He was originally an English teacher, with a MA in Anglo-Irish Literature and Drama from University College Dublin and PhD in English Language and Literature from University College Cork. But he gave all that up to become a piano teacher.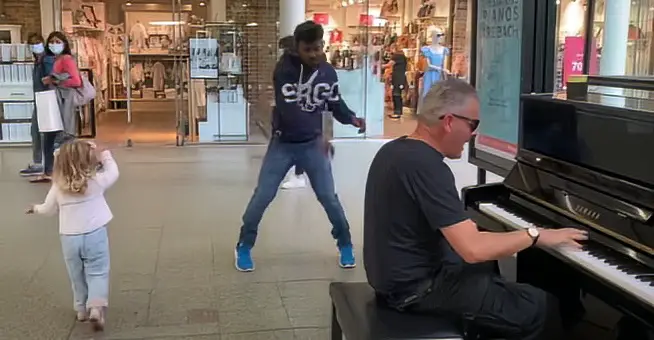 In addition to teaching piano, Dr K also plays in London train stations wearing his signature dark shades. He also has a YouTube channel with nearly two million subscribers! In this video, Dr K is playing in the train station when he's joined by a young man he calls "Bollywood Boy."
The young man tries to get his friend to join him in a dance but ends up going it alone until this wonderful little girl, who Dr K calls "Lil Princess," decides to join him. The result is a heartwarming performance that I hope adds a little joy to your day. Watch the full video below and please leave us a Facebook comment to let us know what you thought!
Don't forget to hit the SHARE BUTTON to share this video on Facebook with your friends and family.