It's not often a performer lasts more than a couple of decades, much less six. But Donny Osmond started performing at age eight in 1963 and has been consistently knocking our socks off since then.
Donny first performed what was described as "bubblegum" pop songs with four of his brothers. "The Osmonds," as they were called, had a number of hits in the early 1970s  including "One Bad Apple," "Yo-Yo" and "Go Away Little Girl." Then he broke out on his own and had a stellar solo career as a teen idol.
In the mid-70s Donny teamed up with his sister Marie for The Donny & Marie Show that lasted from 1976-1979. He went on to host many different TV shows and specials, star in movies and on Broadway and he even won Season 9 of Dancing With the Stars.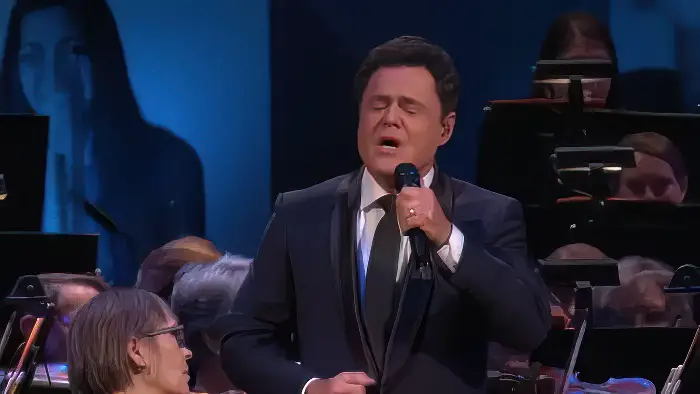 He still has a show in Branson, Missouri, and in this video, we can see he's still going strong. Here he sings "You Raise Me Up," made popular by another mega-star, Josh Groban. And he's backed by a full orchestra that makes the whole thing tremendous.
"What a Bright Beautiful Soul You are Donny Osmond! You are a testament in The Music Industry to righteous clean living, especially for Our Generation. Your talent has been magnified and continues to bring much joy to us all ❣", says a viewer.
You will love this cover song for sure. Watch the full video below and please leave us a Facebook comment to let us know what you thought!

Don't forget to hit the SHARE BUTTON to share this video on Facebook with your friends and family.