Johnny Cash and John Denver are two name that will live on in the hearts of music lovers no matter how much time passes. Here's some rare cleaned up (as much as they could) footage of the two performing together.
Even today, we hear the mentions of Johnny Cash in the conversations of music legends and modern-day singers. He had an amazing deep bass voice that will never be forgotten. John Denver, on the other hand had a tenor voice completely different from Cash's.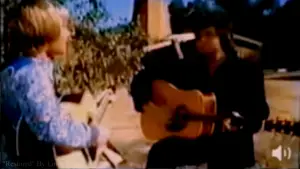 But when the two got together to perform Denver's classic, "Take Me Home, Country Roads," their voices came together for a perfect duet. This video these two legends has been out in various versions, but this one appears to be the cleanest and most visible.
It was obviously shot with a low-quality camera but luckily, the sound quality is good enough for us to recognize these two icons that we know and love. Country Roads is a wonderful hit and Johnny Cash is a wonderful addition to this classic. Watch the video below and please leave us a Facebook comment to let us know what you thought!
Don't forget to hit the SHARE BUTTON to share this video on Facebook with your friends and family.