We've all been to weddings and we know the drill. Sometime after all the first dances, and maybe after the cake cutting, there's the tradition of the bride throwing her bouquet backwards over her shoulder. All the "single" girls are waiting and tradition has it that the one that catches the bouquet will be the next one to get married.
Well here's a video that go a little bit of a twist on that tradition. We see the bride getting ready for the throw, same as always, but instead of throwing it, she turns around and walks to all the waiting girls, then hands the bouquet to her sister.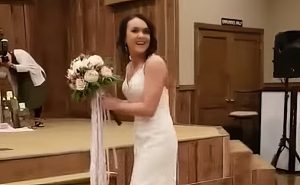 Her sister is very confused at first but quickly realizes something's up when her boyfriend appears, slips a ring on her finger and asks her to marry him! Watch this heartwarming proposal, it's sure to give you a smile!
Watch the full video below and don't forget to leave us a Facebook comment letting us know what you thought.
Please SHARE with your friends and family!