Take a moment to immerse yourself in the captivating performance in the video embedded below. The artist, BJ Griffin, a contestant on America's Got Talent, commands the stage with an instrument that might initially strike you as peculiar. As judge Sophia Vergara astutely observes, "It looks like something is missing." To which judge Howie Mandel humorously adds, "like the rest of the cello?" Indeed, Griffin's instrument of choice is the electric cello, a fascinatingly unconventional and visually striking instrument.
However, any initial bewilderment at the sight of the electric cello quickly evaporates as soon as Griffin begins to play. He launches into a rendition of Al Green's "Let's Stay Together," and the audience is instantly captivated. His voice, as smooth and silky as one could hope for, complements the unique sound of his instrument perfectly. The audience is immediately on its feet, swept up in the rhythm and melody of the performance.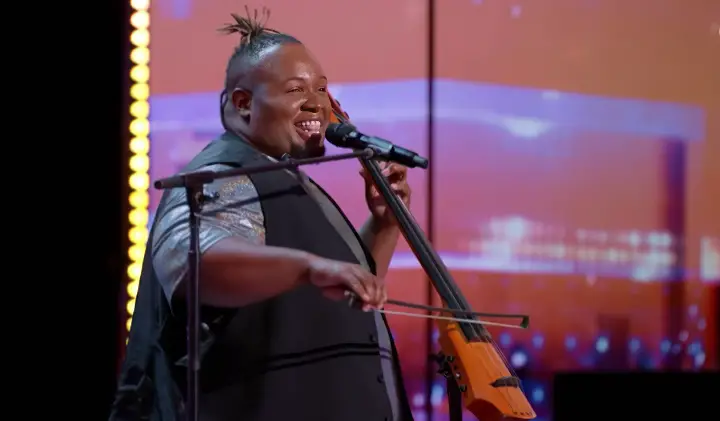 Griffin's performance is a testament to the rich history of America's Got Talent in showcasing unique and diverse talents. The show has always been a platform for artists to break boundaries and redefine norms, and Griffin's performance is no exception. His use of the electric cello, an instrument that combines traditional cello techniques with modern technology, is a perfect example of this spirit of innovation.
Al Green's "Let's Stay Together" is a classic soul song that has stood the test of time since its release in 1971. The song's enduring popularity is a testament to its universal appeal, and Griffin's rendition brings a fresh and modern twist to this beloved classic. His performance is a beautiful blend of old and new, a fusion of tradition and innovation that leaves the audience and judges in awe. It's a performance that truly embodies the spirit of America's Got Talent. Watch the video below and please leave us a Facebook comment to let us know what you thought!
Don't forget to hit the SHARE BUTTON to share this video on Facebook with your friends and family.