Dogs are one of the most amazing animals on the planet. They have been by our side for ages now, and the relationship between a dog and their human is simply incomparable. Dogs are known to be very social creatures and they can be easily trained as well. That is why they are used for so many different things – from sniffing out bombs to even giving therapy. The video below features a wonderful moment from a dog show.
Lots of dog shows are hosted all over the world every single year. Featured below is a hilarious moment from the Westminster Dog Show, which is more commonly known as America's Dog Show. It is a four day event which has been conducted from way back in 1877. In a recent show, an adorable little pooch called Mia participated and, although she didn't win any prizes, she managed to win millions of hearts with her priceless performance.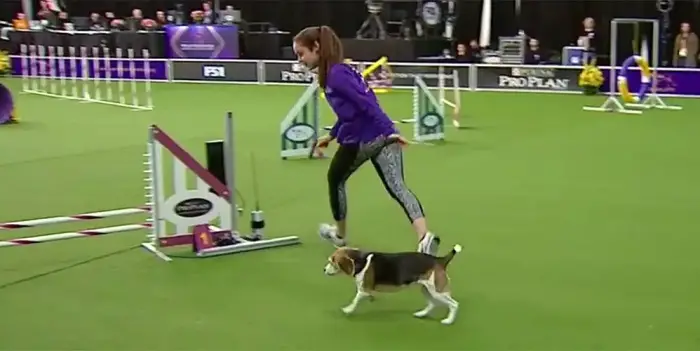 Because of her antics on the show, Mia managed to become insanely popular on the internet. When it was her time to complete the course, the beagle left everyone in hysterics by doing what she did best – getting distracted.
She wandered away from the main course, stopped to smell the ground, and even bent over to lick herself! Watch the hilarious performance below and please leave us a Facebook comment to let us know what you thought!
Don't forget to hit the SHARE BUTTON to share this funny video on Facebook with your friends and family.