A wedding is one of the most special days in a couple's life journey, especially for the bride—for it is said to be one in a lifetime. Every so often the groom surprises the love of his life with something special to make the event even more unforgettable. But at this particular wedding, everyone didn't expect to witness such a rare special performance from one of the best singers of all time.
Andrea Bocelli, the renowned Italian opera singer has been performing all over the world and gracing people with his beautiful angelic voice. But only in New Jersey did he surprise an unsuspecting bride with a very special performance on her special day. Working undercover for Good Morning America, Bocelli travelled to Mahwah, N.J., where this very lucky couple was about to wed.
Michele Walsh, the bride, was about to get the surprise of her life. Their wedding photographer identified her as the perfect bride to get such a surprise because apparently, she was also Italian and an accomplished flutist, same as Bocelli. The groom, Ales Dolinar was in on the surprise serenade including only the priest that would be officiating the wedding, Michele's mother, and the wedding photographer, Brian Delia.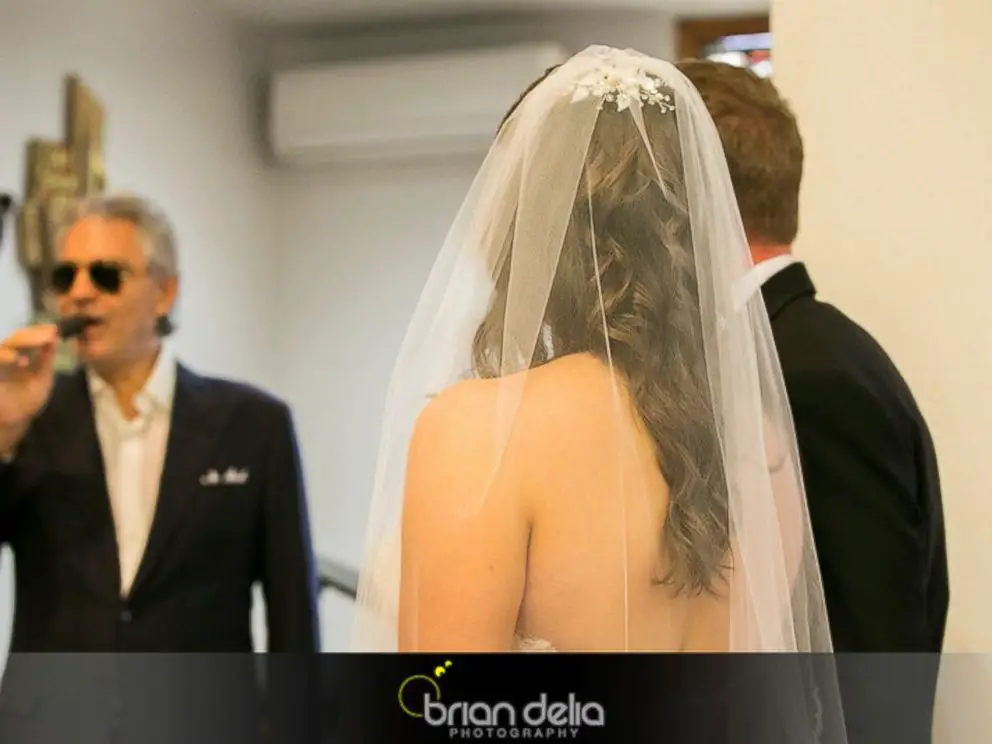 Bocelli, told GMA before the surprise, that he likes doing these things because he likes to give his voice as a present, as he treats it as a present from God and would like to share it with everyone. As Bocelli comes into the church after the ceremony, the guests were all shocked and couldn't quite believe what they were about to witness. As the photographer captures the special surprise, he zooms in on the bride to catch her reaction. Bocelli sang a song entitled "Sorridi Amore Vai," form the couple's favorite movie "Life Is Beautiful".
According to the bride, as soon as she heard his voice, there's no mistaking who it was and she was just shocked and surprised. The experience was quite amazing for her as she was still in awe while doing the interview. She also told GMA that it was the best wedding ever.
Watch Bocelli's exceptional surprise performance below for the lovely bride, Michele.
Wasn't that such an amazing wedding surprise? Please share this story with all of your friends!