Adele, the English singer, and songwriter is one of the best-selling musicians in the world, with over 120 million albums sold. During her recent performance in Los Angeles as part of her special "Adele: One Night Only", the talented artist helped a man to pull off a proposal.
As one of her fans, Quentin, walked his partner, Ashley, onto the stage wearing a blindfold, the "Easy On Me" singer, 33, begged the audience to stay perfectly silent.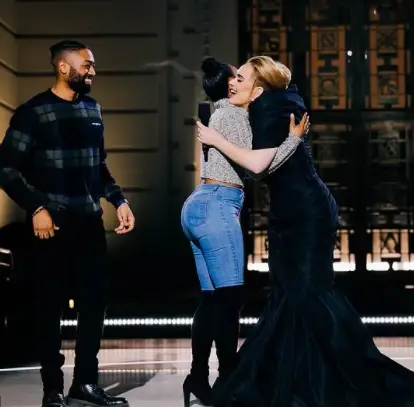 Adele remained shrouded in the darkness on stage. The opening chords of Adele's 2008 song "Make You Feel My Love" began playing just as this guy asked, "Will you marry me?" Adele emerged from the shadows to perform the song for the newly engaged couple.
Watch this amazing video below and let us know your thoughts in the comment below.
Please don't forget to SHARE this video with your friends and family!