Fred Rogers, also known as Mr. Rogers, was an American television personality, musician, puppeteer, writer, producer, and Presbyterian minister. He is best known for his children's television series, "Mister Rogers' Neighborhood," which aired on PBS from 1968 to 2001. Rogers used his show as a platform to teach young children about important life lessons, such as empathy, kindness, and the importance of education.
"Mister Rogers' Neighborhood" premiered nationally in 1968 and quickly became a beloved staple of children's television. Rogers starred as the show's host, as well as its main writer and producer. The show's format was simple: each episode would feature Rogers addressing the camera directly, as he sang songs, talked to his puppet friends, and taught important lessons to his young viewers.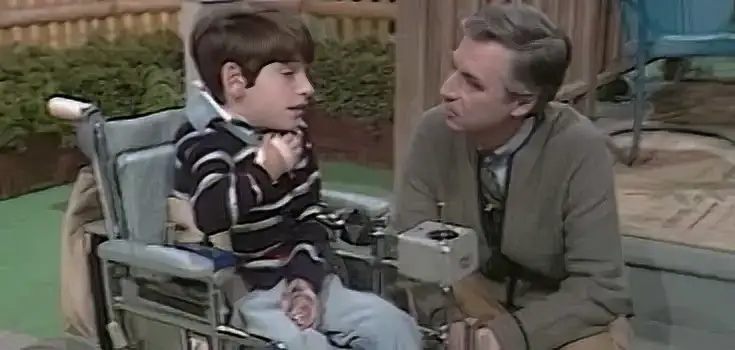 In 1981, Jeff Erlanger appeared on Rogers' show and discussed research on childhood autism. Jeff, who was wheelchair-bound after a tumor operation as a child, made an appearance on "Mr. Rogers Neighborhood" at the age of 10, but his friendship with Fred Rogers lasted decades. Jeff was not surprised when his mentor and friend got inducted into the TV Hall of Fame in 1999, but Fred was certainly surprised when Jeff rolled out on stage during the ceremony.
And while this moment was touching and provided the best photo opportunity of the night, the highlight was definitely Fred's acceptance speech. Even the toughest person in the audience can become emotional while listening to him talk about about neighborliness. Watch the full video below and please leave us a Facebook comment to let us know what you thought!
Don't forget to hit the SHARE BUTTON to share this video on Facebook with your friends and family.