Donkeys are famous as funny and somewhat dumb animals. They are useful for more than just work.
Donkeys are often not given as much priority by humans as they deserve. I say this because these are one of the most wholesome and funny animals of all time. You can't help but agree with me.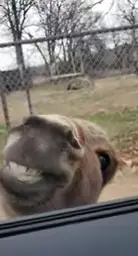 This video will make you think the same. While women were out on the wildlife reservation looking for the white tiger, the donkey steals the show and their hearts. This donkey photobombs hilariously.
This video will make your day better. Watch the full video below!
Please SHARE with your friends and family!