The little birdie featured in the video below has lots of love to share. And this is especially true when it comes to his beloved stuffed bunnies. Meet Marnie – an Indian Ringneck Parakeet. This little boy was celebrating his birthday when his family got him exactly what he wished for – a whole bunch of stuffed bunny rabbits! You are going to melt when you see Marnie's reaction! It is one of the most precious things ever.
Marnie has taught himself not only how to imitate his human friends, but as you can see from the following video, he can also use words and phrases quite appropriately. Marnie is a bunny collector and he has a lot of bunnies. But he doesn't mind adding new ones to the group. On his birthday, he got a pink and white bunny, and he ended up getting really excited by it. He is so happy that he just can't quit talking about it. And his banter is pure gold!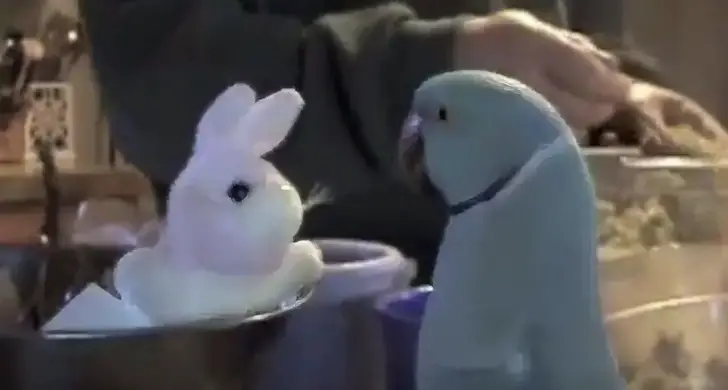 Marnie approaches the new toy to talk to it. He starts by saying "Hello". Then he calls the bunny "Pretty." The parakeet gives the bunny a closer look and asks, "What ya doin'?" and then, with a little encouragement from his humans, says "Give a kiss!" as he precedes to kiss the bunny and immediately says "Thank you!" afterward.
Watch the full video below and please leave us a Facebook comment to let us know what you thought!
Don't forget to hit the SHARE BUTTON to share this video on Facebook with your friends and family.