Past tragedies have always been remembered in a dignified way. One, in particular, happened on September 11, where thousands of people were killed during a dreadful series of terrorist attacks. Though the horrific incident happened 20 years ago, the memory remains fresh for some, and 9/11 has always been a sad day for everyone since then.
Though this date will always be associated with the tragedy, a couple on the other hand just had the most wonderful blessing they could ever receive. As many people stopped to remember those who have passed, a beautiful daughter has been born to Cametrione Brown and his husband on this fateful day. Since then, the newborn has been known to be a true 9/11 baby, not only because of her date of birth but also due to some uncanny coincidences.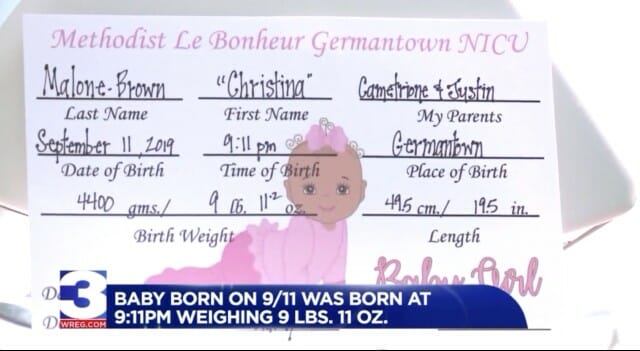 In Memphis, Tennessee, Cametrione was in the delivery room scheduled for a C-section at Methodist La Bonheur Germantown Hospital. And at 9:11 pm her daughter, Christina Brown was born.
According to Justin, Cametrione's husband, "Time was just rollin then all of a sudden we heard the 'wah!' and next thing you know they called it 9/11 and then they got on the table and all of a sudden, 'oh my gosh! She weighs 9/11!'"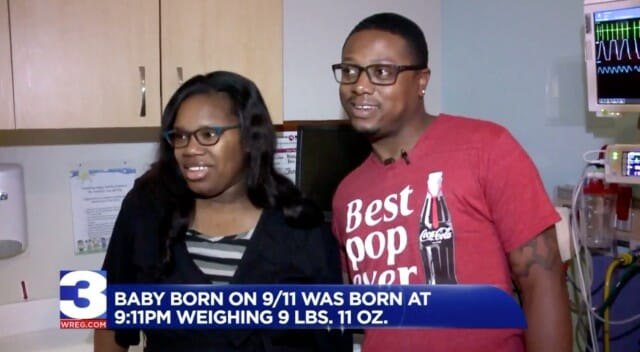 It was said to be unbelievable, the nurses and hospital staff just couldn't get their heads into it. Not even the doctor. A parent care coordinator named Rachel Laughlin even stated that over her 38 years in the field she has never encountered something like this. "It's very rare but very special. It just makes her an even more special little girl than she is," said Laughlin.
You can watch this video about the coincidence below.
The couple even finds the coincidence crazy and weird, as they were only teenagers when the tragic incident occurred. But as parents, they are also happy to be able to bring a little sunshine on such a gloomy day. Cametrione even said that "On that day 9/11 you know you find triumph, you find a piece of joy from a day that's so drastic and still hurts".
What are your thoughts about this coincidence? Leave us a comment below and please don't forget to SHARE this amazing story!