Babies are very delicate and feeble. One must always be careful about how they act with or around their babies.
This video is proof that nothing in this world can comfort a baby like its mother. The video went viral for all the wholesome reasons. The baby is sleeping while the mother, Kristen, is also aware of not waking her up with a shock and making her cry. In order to prevent her baby from crying, she tries to be as gentle as she can. All the while Kristen calls Baby Avery in a low yet sweet tone of voice.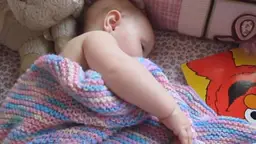 The mother's voice eventually wakes the baby up. However, the baby does not react the way the mother or any of the viewers on the internet may have expected her to. Instead, she wakes up without a single sound and smiles the most heartwarming smile ever. Her smile can melt just anyone's heart.
This is one of the cutest videos on the internet. Watch the full video below and please leave us a Facebook comment to let us know what you thought!

Don't forget to hit the SHARE BUTTON to share this video on Facebook with your friends and family.