It's pretty well known that most domesticated animals can do anything for a treat. In fact, their drive for food is partially the reason our ancestors were able to domesticate them in the first place. Their love for treats is so immense that they can even be trained and conditioned using food as a reward. This is how dogs are trained to do all sorts of tasks, but other animals, including horses, can be taught to do the same.
Budweiser has a great record of making some creative advertisements, and for this one, they got their idea from animals and their love for some yummy treats. It starts off with a man telling his Dalmatian to go fetch him a stick. In return, he was to be rewarded with a treat. Sure enough, the Dalmatian does what he is told in the blink of an eye. The whole thing was being watched by a Clydesdale horse.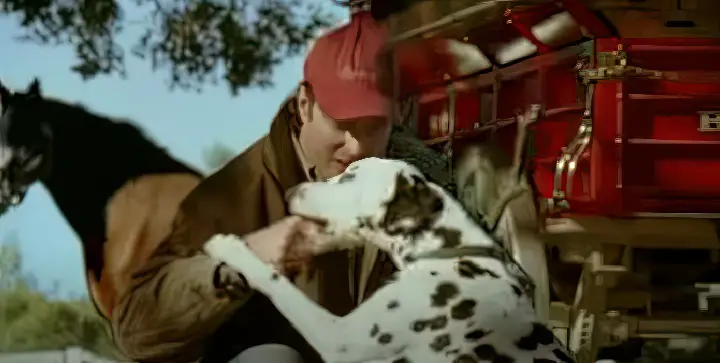 He clearly wanted some treats too! That's how he came up with a brilliant plan. He decided to "play fetch" by himself, but took it a little too far perhaps. He ended up fetching back a huge branch off a tree! He drops it in front of his owner, who naturally called him a show-off! You have to say that the horse was a little cocky though! Despite it, you can't help but cheer with him.
Clydesdale horses have become synonymous with the Budweiser brand, and ads like these are keeping that tradition alive and well! Watch the full video below and please leave us a Facebook comment to let us know what you thought!
Don't forget to hit the SHARE BUTTON to share this video on Facebook with your friends and family.