Wild animals such as elks are beautiful yet dangerous especially when you get too close to them. They are known to be one of the largest mammals found in North America, with their long antlers and large body size, they tend to be aggressive at certain seasons of the year. It is best to keep a safe distance from them to avoid getting attacked for they are really dangerous when provoked. It may be tempting to take pictures of them up close because of their majestic appearance but it pays to be cautious and avoid close contact if ever possible.
Here we see in this video a photographer who unfortunately came face to face with a young aggressive elk. The close encounter was caught on film, at the side of the road. As seen on the footage, the photographer appears to be defenseless on the ground keeping his head downwards to avoid fatal contact with his vital organs such as his eyes. He remains calm as the elk tries to charge at him several times. With such luck, he was able to snap some close-up photos of the elk while also being attentive to his situation.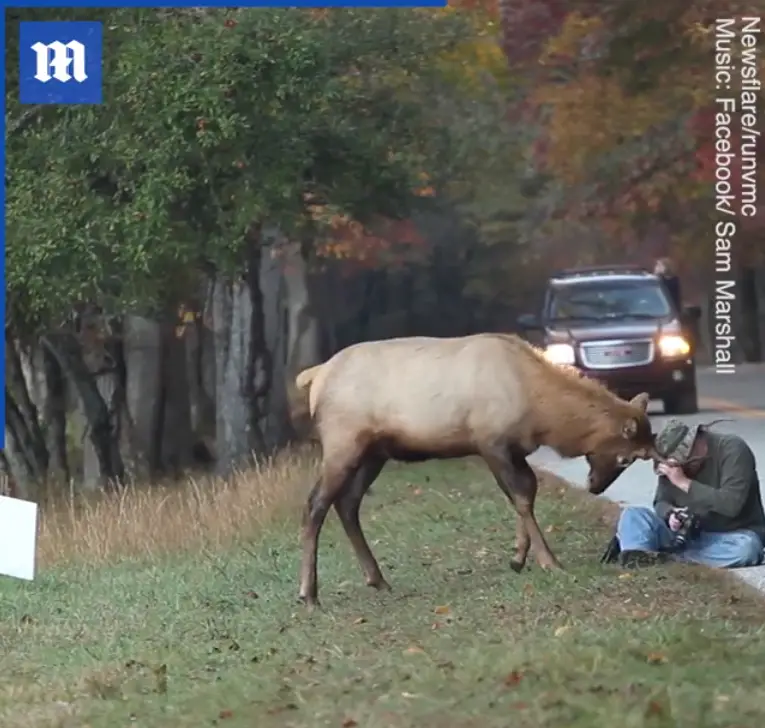 He keeps ducking his head to show the elk that he does not want to provoke it. But the creature seems to be persistent and doesn't stop attacking him. Standing up while the elk was on full attention might leave him vulnerable so he stays on the ground remaining passive for more than ten minutes or so, waiting for a chance to escape from the situation. A nearby car wanted to help the photographer but was hesitant as they might increase the elk's aggressive state. But as they caught the creature's attention for a split second, the photographer was able to stand up and move away slowly while the animal also backed away from him.
Good thing another car drove near the scene and offered the photographer safety. Watch the encounter below.
When in contact with wild animals such as elks, we should always be ready and try to be calm as to lessen their aggression.
What do you think about this story? Leave a comment below and don't forget to share!