Prepare to be amazed by the video below showcasing the remarkable talent of a young Mariachi soloist, Eduardo Antonio Trevino. At just 11 years old, Eduardo's performance on America's Got Talent is nothing short of astonishing. His stage presence is commanding, and his voice, a perfect blend of power and emotion, is sure to leave you in awe. Alongside his band, Eduardo delivers a performance that not only impresses the judges but also brings the audience to their feet, earning him a unanimous 'yes' from the panel.
Mariachi music, the genre Eduardo so skillfully represents, has a rich and vibrant history. Originating in the 19th century in the western regions of Mexico, Mariachi music is a traditional Mexican genre that blends string instruments, trumpets, and powerful vocals. It's a genre that has been passed down through generations, with its roots deeply embedded in Mexican culture and history. It's a testament to the genre's enduring appeal that it continues to captivate audiences worldwide, as Eduardo's performance so clearly demonstrates.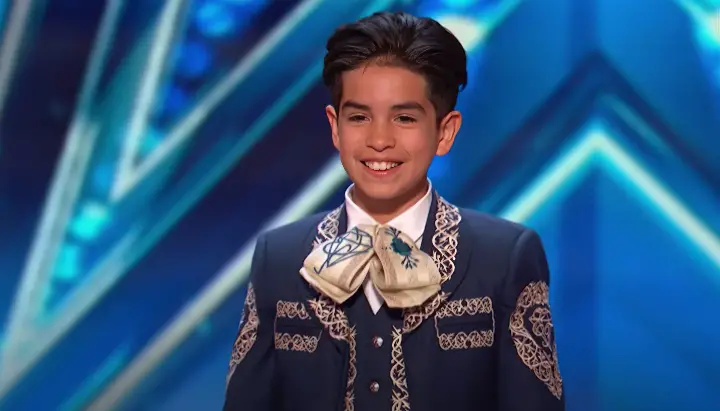 Eduardo's performance is a wonderful reminder of the timeless appeal of Mariachi music. His voice carries the weight and depth of the genre, resonating with the audience and judges alike. It's truly amazing to see such a young performer embody the spirit and tradition of Mariachi music so beautifully. His performance is a testament to the enduring power of this genre, and a shining example of the talent that America's Got Talent continues to discover.
It's not every day that we come across a talent as unique and captivating as Eduardo's. His performance is a powerful reminder of the rich history and cultural significance of Mariachi music. As you watch the video below, prepare to be swept away by Eduardo's incredible voice and the infectious energy of his band. It's a performance that truly deserves the label 'amazing'. Watch the video below and please leave us a Facebook comment to let us know what you thought!
Don't forget to hit the SHARE BUTTON to share this video on Facebook with your friends and family.