The Carol Burnett Show was one of the most entertaining shows on television. It ran for 11 seasons on CBS, from 1967 to 1978. It was one of the first successful variety shows on television, and was known for its hilarious sketches, celebrity guest appearances, and musical numbers. The show was a ratings success, and won 25 Emmy Awards over its 11–year run. The skits from that show have always been some of my favorites.
The video below features one of them. Tim Conway and Carol are acting as a husband and wife duo. One night they get disturbed by a "wrong number" call. You are going to be in stitches when you see what follows next!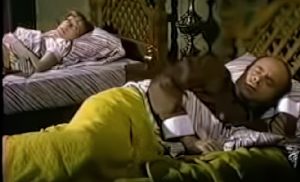 Having an affair back in those days was pretty hard compared to modern times. Now you have cell phones and all you need to do is send a text, but the poor people from the past had to use something akin to codes in order to communicate! Just wait till you see this!
Watch this hilarious skit below! Did this crack you up! Let us know your thoughts in the Facebook comments!  Watch the video below and please leave us a Facebook comment to let us know what you thought!
Don't forget to hit the SHARE BUTTON to share this hilarious video on Facebook with your friends and family.