Everyone has that one song that they know all the words to. Moreover, it is the song of their choice during karaoke night! But have you ever wondered if animals have a preference for any type of song? Well, this adorable dog is here to answer your question!
Tank, the adorable American Bulldog, lives in Texas. And like most people from the Lone Star state, he loves music. Specifically, he prefers country music to any other genre. Moreover, his human parents Brin and Kyle, are very aware of this. So, one day they recorded the grey Bulldog singing along to his favorite musical artist!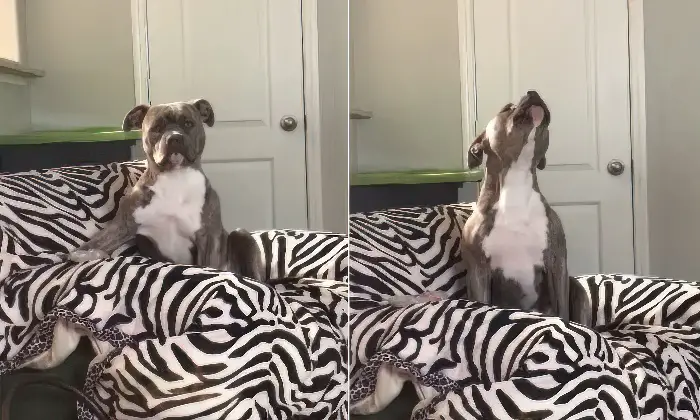 Tank is hanging out on a comfortable couch, chewing on his toy when Mom asks the Alexa device to play a Cardi B song. As soon as the song begins, the pooch drops his toy and perks right up!
But Tank isn't really in the mood for hip-hop–Carly B is not his style. So, Brin changes the song to "Tennessee Whiskey" by Chris Stapleton. And as soon as tune hits, the canine howls along! Not only does he sing the song, but he even keeps up with the melody!
Watch the funny video below and please leave us a Facebook comment to let us know what you thought!
Don't forget to hit the SHARE BUTTON to share this video on Facebook with your friends and family.