It is not only humans who love to have fun. People who love to have fun often tend to be a little reckless and passionate.
However, even animals can be as reckless and passionate about fun when they are in the moment. This is proved in a video that went viral on the internet for only wholesome reasons. In this video, we see black bears on a trampoline.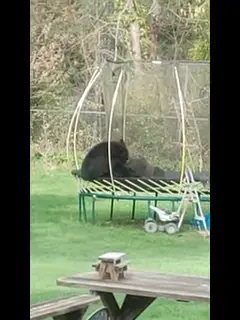 They are jumping back and forth and playing with one another. We can tell that their new discovery was not regretted in any shape or form for them. While filming, Rose added funny commentary to the two sparring bears. "Yeah, so much for that trampoline," Rose says. "It's Wrestlemania," she laughs, "Goodness gracious."
The British house owner was amused. Watch the full video below!
Please SHARE with your friends and family!