I think you could say tap dancing is a dying art in the world of entertainment. Back in the  early 20th century, tap dancing was all the rage; every show had its take on the style. Slowly, the dance form lost its luster. But for me, if I see someone tapping away, I wouldn't miss it for the world.
Although tap dancing may have lost its popularity in the last half century, it surely has not lost its charm. Just ask this dynamic teacher-student duo. They carry the weight of America's tap-dancing future's on their shoulders. The beloved teacher Justin M. Lewis discovered his love for dance at a young age. By the time he was 10, Lewis was performing alongside renowned jazz musician drummer Chuck Redd.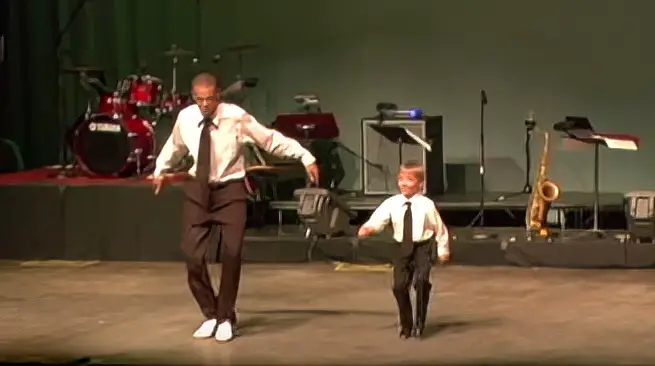 Lewis pursued the Performing Arts as his major at Columbia College Chicago. Now, he teaches the style to anyone who is interested. That's when Lewis met his dancing partner, young Luke Spring.
Like his teacher, Luke recognized his passion for dance early when he stumbled upon a pair of his sister's dancing shoes. The rest is history. Luke is said to be the best young tap dancer in North America. Watch the full video below and please leave us a Facebook comment to let us know what you thought!
Don't forget to hit the SHARE BUTTON to share this video on Facebook with your friends and family.