Dogs are definitely one of the best companions in the world. They are not just adorable, but they make the best pets too! No wonder they are called "man's best friend". But birds aren't far behind when it comes to being awesome pets either. Just take a look at this green-winged macaw in the video below!
Dogs are brilliant when it comes to learning tricks. But I had no idea parrots were this incredible as well! Macaws are long-tailed colorful parrots that are native to Central America and North America. This green-winged macaw in the video below is called "Rio" and he has the best trick up his sleeves! Wait till you see it!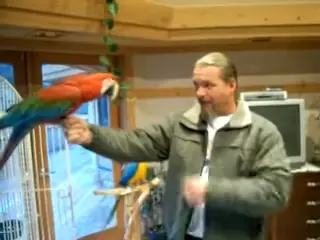 Watch Rio's favorite trick below! Did this make you smile? Let us know what you think in the comments section!
Please SHARE this adorable clip with your families and friends!