I wonder where some fads come from. I mean, who was it that said, "Hey, I know–let's take off all of our clothes and run across the football field during the middle of a game!"
Streaking has actually been around for centuries, according to Wikipedia. A man was arrested in 1799 in London after accepting a bet to run through town naked. By February 1974, newspapers and magazines were beginning to write about it as a fad, mostly on college campuses. There was even a #1 song, "The Streak," by Ray Stevens.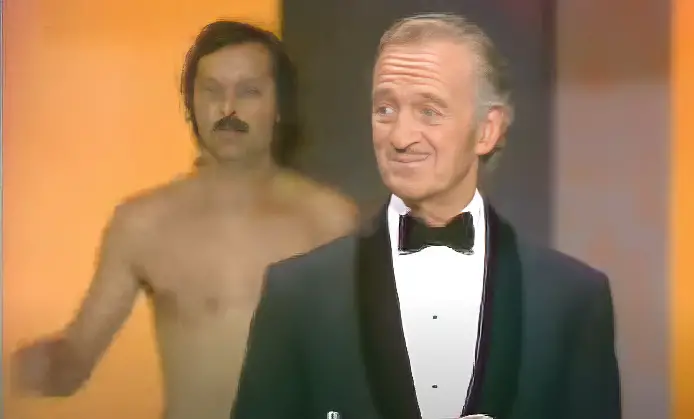 On April 2, 1974, right before The Sting was announced as Best Picture, a naked man (later identified as Robert Opel) streaked across the stage behind David Niven while flashing a peace sign with his fingers.
Far more memorable than the streaker himself, however, was Niven's incredible impromptu comeback, cutting the man to the quick: "Isn't it fascinating to think that probably the only laugh that man will ever get in his life is by stripping off and showing his shortcomings?" This is absolutely hilarious. Watch the full video below and please leave us a Facebook comment to let us know what you thought!
Don't forget to hit the SHARE BUTTON to share this video on Facebook with your friends and family.