Kid's year-end dance recital can be any of the two things. It's either a bunch of kids nervously swaying their bodies to the end of the song. Or it is very cheerful kids, smiling and jumping in joy, warming your hearts. In this video, it is a combination of both with this 19-month-old toddler who seemed to steal the show!
A bunch of little girls in their sparkling tutu skirts were ready for their performance. As the song 'Do You Love Me' starts to play, they are nervously making their way through the routine. For the most part, the girls seem pretty shy and understandably so, if it is their first time on stage. As is the norm, the audience breaks into cheers and claps.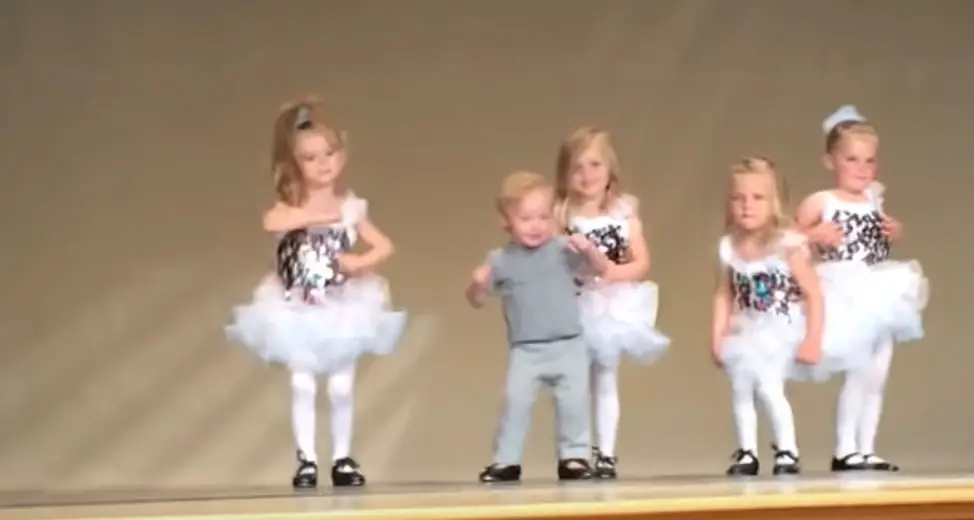 But amidst these pretty 'ballerinas' was a tiny 19-month-old boy in a plain gray outfit. With the biggest smile plastered over his face, he taps his foot on the ground and also swings his arms. At one point, he gets distracted with a fellow dancer on his right and subsequently stands still. But a quick whistle from the audience seems to do the trick. He is then back on the groove and doing his adorable moves, all with the biggest smile on his face.
Even the lyrics of the song perfectly goes with their routine.
"Do you love me – now that I can dance? Watch me, now!"
WATCH this super precious, soul-uplifting performance by this adorable bunch of kids below!
Which of these kids do you think will become amazing dancers in the nearest future?
What do you think?