A small and in fact, the smallest help can change someone's life and sometimes, even save it. This video will inspire you to help others as this Turkish man did.
The day was going quite normal and mediocre in the life of a Turkish shopkeeper when something unusual happened. This video shows how the man went straight to a 4-year-old boy when he saw him in trouble on the escalator. The man really saved a life on this day.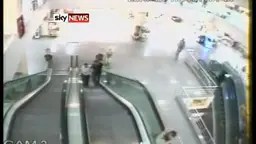 "I turned back to the store and I was told that he was climbing onto the outside of the escalator rail," said Ali. "So I ran outside and saw that he was about to fall down. I have health problems but despite that, I did my best to catch him when he fell off and I managed to do so."
Ali really is a superhero. Watch the full video below!
Please SHARE with your friends and family!